Latest News
Dandanat Music and Dance Festival
In the halls of Dar Annadwa, music echoes as Palestinian and Swedish bands play originals for each other, devise creative covers, or write new songs together. Rap, rock, and pop are among the styles sung in Arabic, Swedish, and English.
Dandanat Music and Dance Festival was hosted in Bethlehem, September 12-14, 2019. The festival, which this year featured three Palestinian and three Swedish bands, is hosted in partnership by the Diyar Consortium and Bilda.
"It's an opportunity to meet musicians from everywhere," said Nadeen Odeh, a member of Ettijah rap group. "It's great to meet musicians from Sweden but also Palestinians from Nazareth or Haifa. It's a chance to learn something new."
Dandanat was started almost 15 years ago, when the idea of a collaborative Swedish and Palestinian cultural encounter was developed by Dr. Mitri Raheb and Hania Persekian. Today, Palestinian bands are paired with Swedish counterparts and work together to develop new collaborative music for the last night of the festival. This year, the Swedish bands Greybeards, Spring City, and Skogsfonk performed with Palestinian groups Inab, Noel Kharman and Raji Ghareeb, and Ettijah.
Bands workshop their ideas during the day and three performances in the Bethlehem area showcase their music throughout the weekend. The Friday performance was on the outdoor stage in Manger Square.
Simon Mojtahedi, who performs with the band Greybeards, said the festival was a great opportunity to bring people together and for all to learn. "Creating new music together was a really cool experience that was fun for all of us," he said.
"Greybeards is amazing, and I'm thinking of going to Sweden so we can play more," said Adi Yassin, a founding member of the Palestinian band Inab. "I'm hoping we can put our original song together before Saturday." Though the founding members of the band are from Nazarath, this is their first show in the country after doing most of their playing abroad.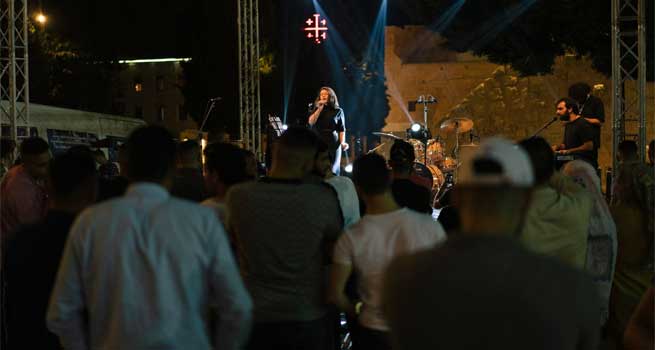 Noel Kharmen, whose music career started at age 16 when she began posting covers of songs on YouTube, said that learning about the culture of other groups and playing together is part of the magic of Dandanat.
"I think music brings a lot," she said. "I think people will have fun just listening to us make music together and mix it up between Swedish and Palestinian sound."
Kharmen, who splits her time between Haifa and Berlin, has an EP coming out soon that will combine her pop style with traditional Arabic instruments and a mix between English and Arabic lyrics.
At Thursday night's show, pub-goers at Al-Jisser in Beit Sahour got a taste of the sounds of the Palestinian and Swedish bands. Five bands performed in the crowded pub and listeners got the chance to sing and dance along with the bands.
Odeh, who started rapping at a very young age, said it's good experience for her group to learn from musicians who are older than them. Ettijah raps about many of the problems facing women and children in society, and the group is producing new music with Skogsfonk during the festival.
"One problem is how the people look at us because we are just girls singing rap from the (Dheisheh) refugee camp," she said. "It's not something that's normal in our society. It's something new for the people and for us."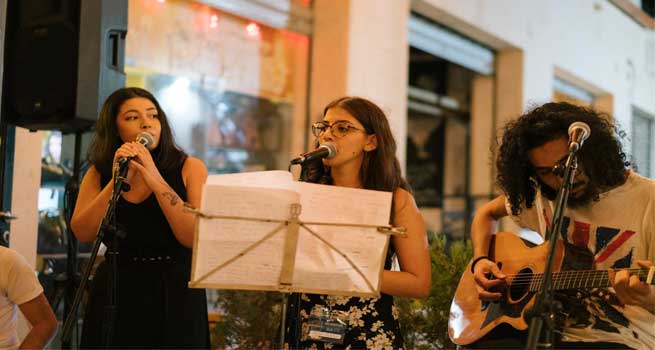 On the final night of the show, the groups performed together to showcase the outcome of the weekends' workshops at Dar Annadwa. Some bands even crossed language barriers, singing together in Arabic or Swedish. The night ended with an informal jam-session where artists enjoyed each others' company and musical talents as they rounded out a weekend of cultural and musical collaboration.
Besides music and culture sharing, Kharmen said the festival is also a chance for the visiting bands to understand more about Palestine and the situation with the occupation.
"I don't think a lot of people know what is going on here," she said. "There they hear it from a different perspective, but when they are here they really feel it."
Top