Religion & State
We Choose Abundant Life
Christians in the Middle East: Towards Renewed Theological, Social, and Political Choices
Click on the Image below to read and\or download the book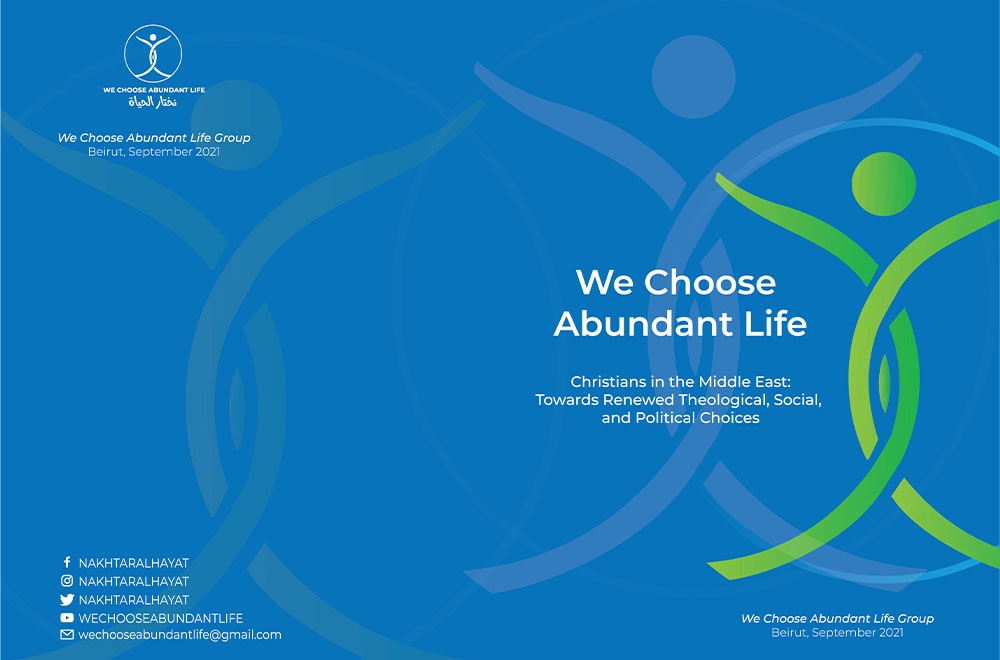 From the Nile to the Euphrates: The Call of Faith and Citizenship
A Statement of The Christian Academic Forum for Citizenship in the Arab World
Click on the Image below to read and\or download the document (Available in English & Arabic)
" Religion and State : Middle East Program" From 2008 to 2013 : -
The Year 2013 was the heart of the three-year PHASE II of the R & S Program, building on what had been envisaged and developed in PHASE I (2008 – 2010), a post-PHASE I year of evaluation and strategy formulation (2011), and launched during the first year of PHASE II (2012).
In keeping with the approved strategy and program design for PHASE II, a foundational workshop was held in Amman, Jordan, in December 2012 that included 22 invited persons of the four countries of focus (Egypt, Lebanon, Jordan and Palestine), plus another 12 Jordanian participants recommended by the Royal Institute for Inter-faith Studies (RIIF).
Presentations and discussions during that workshop and several events that followed in 2013 focused on Constitutions; the Rule of Law; State Security vs. Human Security; the Role of Religion in Public Space; and the Role of the State in Securing Religious Liberties; the Management of Natural and Human Resources; the Role of Women and Discriminatory State and Religious Laws and Practices Against Them.
Around those various themes, the following events were successfully conducted in the course of 2013:
- A major conference in Berlin, Germany, April 23 – 26, in cooperation with the German Initiative for the Middle East (DINO), with 25 specialists, advocate and practitioners (parliamentarians and legislators, civil society members, women and youth), plus some 40 international observers and partners from 17 countries, representing "a community of caring." The conference covered a spectrum of critical issues faced/experienced by citizens of Middle Eastern countries;
- Regional Workshops/Training Events, held as follows:
+ 3 Workshops-combined-into-one for young lawyers and advocates (attorneys, graduate students of law, political researchers, media persons and civil society), September 3 – 5 in Amman. Three renowned instructors conducted the major part of the training; a syllabus was produced;
- A one-day Workshop for a group of youthful civil engagement professionals (women and men) was held in Ramallah, Palestine, December 22, focusing on issues involving Human and Religious Rights – Realities and Aspirations, Exercises in Practical Application.
- A joint meeting between Diyar, the Center for Middle Eastern Christians (based in Beirut), and the Association for Christians of the Levant (based in Amman) was to have been held in November, but was postponed and held in January 2014, due to calendar complications.
These events were by all measures fruitful, and produced an essential core of issues to be addressed in 2014 for the completion of PHASE II, and for drawing up the strategy for the next steps that would provide the framework for PHASE III (2015 – 2017).
Top